If you find yourself in Seattle during the Summer, be sure to sail in the Lake Union "Duck Dodge", a Seattle tradition for 39 years.  Listed in FODOR's as one of the "TOP 100 Things to do in Northern America".
For more information, visit the Duck Dodge Site:  http://www.duckdodge.org/  From their site, Douglas Emmerton shares how it all started….
Sailing with DUCK DODGE
Historical Page
Actually, the original name was the "Tenas Chuck Duck Dodge". Tenas Chuck is the native american name for Lake Union (Chuck means "water", as in the Pilchuck, Skookumchuck, Chuckanut, Saltchuck, etc.) Duck Dodge one would assume means that in order to navigate the course one must either duck Dodges or dodge ducks. Since there are probably more ducks on Lake Union than Dodges, it is safe to assume the latter.
The original handbill announcing the first (technically second) Duck Dodge in 1974 actually has a sub-title of "Lake Union Beer Can Regatta". This was included because a friend of mine was worried that people wouldn't "get it" if we just called it the Duck Dodge.
Anyway, just some worthless trivia for you. I have much much more if anyone cares.
Ron Lloyd, Co-founder of the Duck Dodge (With Mike Rice and Bruce Gilbert) Here's Yet another FANTASTIC Duck Dodge Story!
Got your message wanting some information on the afternoon of June 13th, the day the bridges opened for the Duck Dodge Committee Boat.  Use part, any or all. Here's how the very special, once in history, event occurred;
I had planned to take my boat, OFFKEEL, into Lake Union on Monday, June 12th, my day off to be the Committee Boat for the June 13th Duck Dodge. Well, the logistics of boats, cars, bridges, and people (a sailor's nightmare) inevitably changed those plans.  So the decision was made to leave work early (bummer) on Tuesday with my friend's Matt and Chuck in tow.We made our way from Seattle to Carillon Point stopping only to get the necessities for the afternoon and evening (tequila, beer, and ice). After a quick stop in the Beach Cafe for a cold one, we ventured to the boat before we lost all our precious ice.  One glimpse of the Geese poop on the deck and it was obvious a quick wash down was mandatory.  I was keeping a careful eye on my watch, knowing I had to leave the dock by 2:50 PM in order to make the 3:30 opening of the Mountlake Bridge.  I thought I had given myself a buffer, because if we happened to miss the 3:30 opening, I'd at least make the last opening at 4:00. At 3:05 we were underway, another cold one in hand, and making a beeline for the bridge, engines full throttle.  At 3:35 we were just about 30 yards short of the cut, so I backed it down and decided to just wait for the 4:00 opening.  At this point there were two important things I had not realized.
First, as most of you know, the last opening for the Mountlake Bridge for rush hour traffic is 3:30 (damn), and second, the bridge operator had seen me coming full throttle and was preparing to open the bridge, but I SLOWED DOWN!!!  Inching up on the bridge, the bridge operator came over the loud speaker and summoned to us these fatal words, "The Mountlake Bridge is CLOSED until 6:00 PM" (Sh!t).  I was now prepared to do the unthinkable, get on the radio and plead my case.  After a short conversation and detecting the urgency in my quivering voice, Patty asked me to call her on the direct phone to the bridge.  Cell phone already in hand, I called immediately, and continued to politely plead my case, the urgency of the DUCK DODGE COMMITTEE BOAT getting through the bridges in time to pick up the committee and prepare for the race had to be a priority.  Surely, if I could not make it through the bridges, the race could not commence, and hundreds of boats would be left bobbing in the water (wow, what a party that would have made).
After what seemed like forever (about 5 minutes), Patty told me that I could try her supervisor, but it was not likely she would approve it.  Only once that she had known had this ever been allowed, and that was for a Coast Guard boat (must have been a big one).  In my endearing way, I continued to plead with her to just open the bridge, but rules and regulations were in the way, and we were just a few minutes too late for her to legitimately squeeze us in.  But the DUCK DODGE COMMITTEE BOAT must have some priority, my sailing life was in dire straits, I needed some serious HELP!  I called Joanne, Patty's supervisor, and started from the beginning; how I really THOUGHT the last opening was at 4:00 PM, how important it was that I, the skipper of the DUCK DODGE COMMITTEE BOAT, just had to get through, and the various ways of just how my life might end if I didn't.  By this time Patty and Joanne had been very polite and understanding, but the clock was ticking away, and I still had not made it through the bridge.  So, understanding my despair, Joanne suggested that I call her supervisor, but she didn't think he would allow us to go through either, it is a Coast Guard rule, no opening the bridge between 3:30 PM and 6:00 PM.  So I made a call to Dave, Joanne's supervisor, still hoping that somewhere in this world miracles really do exist (along with Santa Clause and the Easter Bunny).  Again, I started at the beginning and told my story without taking a breath.  I was running out of time and it was 3:55 PM.  Now I had two bridges to worry about, although I really believed I was never going to make it past the Mountlake Bridge.
When I finally did stop for air, Dave was very understanding of my situation, firmly suggested that for future reference I remember bridge opening times, and said he would OK opening the bridge, but asked how I was ever going to make to the University Bridge by 4:00 (it was now 3:57).  I told him that I had a very fast boat and I would make it somehow (not really, but I sure was willing to give it a try).  The Mountlake Bridge gave me a long and short toot of the horn, a few high fives and cheers on the boat, and a beeline for the University Bridge.  I called Patty on the cell phone to thank her, and she relayed the news that the University Bridge was already informed of our arrival and would open the bridge as soon as they saw us.  WE MADE IT through by 4:18, history in the making.
Having an hour to kill before picking up the Committee, and realizing that my breathing techniques were not working fast enough to reduce my heart rate, we headed directly to the dock at Ivars Salmon House for another cold one and a bite to eat.  There we picked up my boat partner, Randy.  Randy had called me when I was stuck at the Mount Lake Bridge and I informed him of our dilemma.  He really did not think he would see us that night, so he ordered a beer and some food and had decided to head to his soccer game for the night.  Just as he was finished and was ready to leave, OFFKEEL appeared under the University Bridge.  We wondered if the bridge operator may have thought this was all a hoax.  He must have seen us pull up to Ivars and depart to the bar.
After downloading Matt and Chuck on Chuck Kinney's boat, the Kali Durgha,we had a wonderful night meeting the Committee and seeing many friends out racing for the night.  But most of all we had a story for all time, the only pleasure boat to be allowed through the bridges during off hours, because we were the DUCK DODGE COMMITTEE BOAT!!!!
Good Sailing, Douglas Emmerton
First DUCK DODGE Poster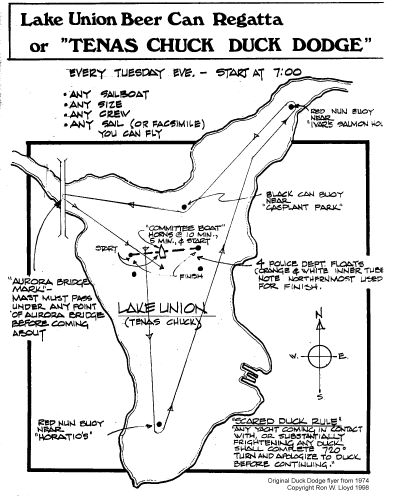 Rules:
Rule 1: Starboard Tack has Right of Way
Rule 2: Rules of the road apply
Rule 3: No hitting one-another(With or without boats)
Rule 4: Take all marks to PORT unless noted on Race Course
Rule 5: No hitting one-another
Rule 6: Bribing the committee is against the rules (while anybody is looking)
Rule 7: No hitting one-another
Rule 8: There is no rule number 8
Rule 9: No hitting one-another
Rule 10: Follow all the rules
Rule 11: No hitting one-another
Rule 12: Never make a duck change its course (Dodge the Duck)
Registration procedure:
Sail by the committee boat before the start. Tell them your boat name and sail number.  Be sure they acknowledge you. That's it!
There are no customs unless you go really way off course.
Travel Acknowledgements
Global Adventuress thanks Captain Jeff Lehman for taking us out on his boat.  Her name is "Verity".