Queen Rania Al Abdullah A Role Model for Girls
Compliments of CNN, June 17, 2013
 A queen's message to girls: More than tiaras and cupcakes
Editor's note: Her Majesty Queen Rania Al Abdullah is queen of Jordan and has been an advocate for children's education for years in her country, across the region and around the world, working with such groups as UNICEF. This open letter to the girls of the world is part of the "Girl Rising" project. CNN Films' "Girl Rising" documents extraordinary girls and the power of education to change the world.
(CNN) — Dear Girls of the World,
Some of you will be familiar with the childhood rhyme, "What are little girls made of? Sugar and spice and all things nice, that's what little girls are made of."
Marketing and stereotyping combine to have us believe that you're also made of pink dresses, pigtails, dolls, ringlets, ribbons, bows and tiaras. That you like cupcakes. That all you will want to be are wives and mothers. That you're more "inclined" to the arts and "better suited" to caring professions like teaching and nursing.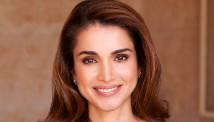 Queen Rania of Jordan
And, maybe, that's true for some. But my daughter Salma teaches me every day that there's so much more to you — and for you.
Salma is 13, and I can count, on one hand (in fact, on one finger!), the occasions she's worn a dress — and they've never been pink! Dolls always stayed on the shelf. She's happiest dribbling a soccer ball past her brothers and scoring goals or building model airplanes with her father. She dreams of being an engineer. That's my Salma; that's why I love her.
So, when I think about girls rising, I think of girls like her and her sister, Iman. I think of the millions of courageous girls all over the Arab world and beyond who, every day, summon inner strength, surmount barriers and make a difference in their communities.
Let me tell you about 16-year-old Wafa Al-Rimi.
Some days in Yemen, there's less than one hour of electricity, so studying is tough.
"We were tired of darkness," Wafa said in an interview.
Rather than accept defeat, though, she built foundations under her dreams. With help from business mentors, she formed an all-female company that created solar-powered lights. They won INJAZ Al-Arab's Best Company of the Year in November.
Wafa and her friends are part of a new generation of independent-thinking Middle Eastern girls: torch-bearers and trail-blazers.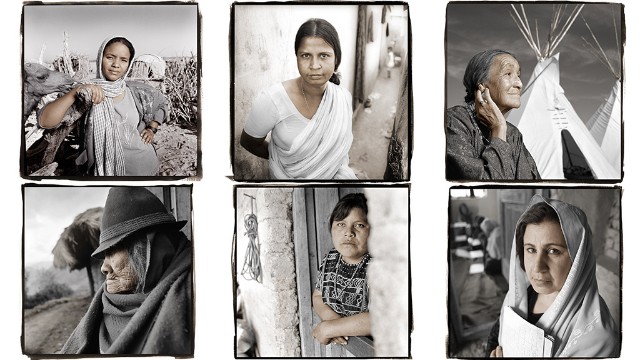 Through his exhibition "Stirring the Fire," photographer Phil Borges is shedding light on gender issues worldwide and celebrating women and girls who have become catalysts for change in their communities. Many had to break through the same kind of barriers to achieve social and economic justice. Click through the gallery to see their courageous stories.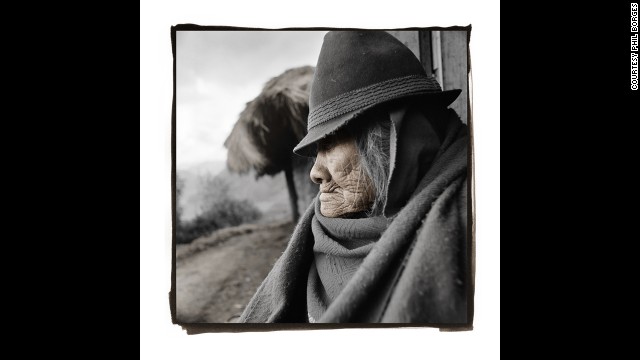 Transito, 91 (Cayambe, Ecuador) For centuries after the Spanish conquest, many indigenous people in Ecuador were forced to serve as indentured servants in the hacienda system. One of them, Transito, was jailed in 1926 after speaking out against a hacienda owner who she said molested her. But by taking a stand and raising awareness about the plight of indigenous Ecuadorians, Transito became a legend in the country. She is often referred to as the "Rosa Parks of Ecuador," Borges said.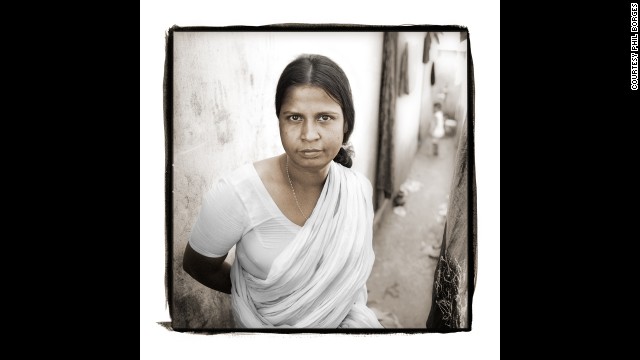 Akhi, 32 (Tangail, Bangladesh) At 13, Akhi was sold as a sex worker to a Bangladeshi brothel. After three months, she regained her freedom by paying off her madam. She then created an organization to advocate for sex workers' rights, gaining support from various religious, political and social groups. Since the group's conception, the number of 12- and 13-year-olds working in the brothels has decreased, and condom use has jumped from near zero to 86%.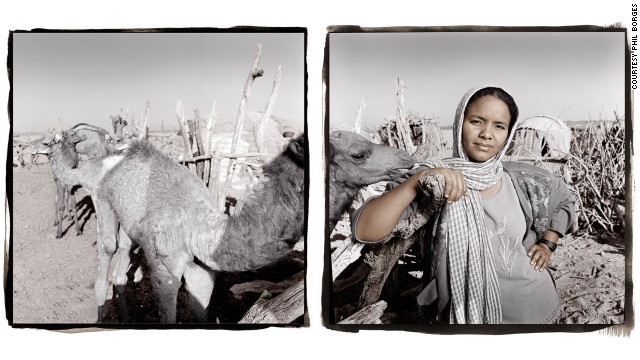 Abay, 28 (Awash Fontale, Ethiopia) Abay was born into a culture in which almost all girls are circumcised before the age of 12. But when it came time for her circumcision, she said no and ran away to live with her godfather. Years later, she returned to her Afar village as an outreach worker and persuaded one of the women to let her film a circumcision ceremony. When she showed the film to the village's male leaders, they were horrified by it and called a special meeting to put an end to the tradition.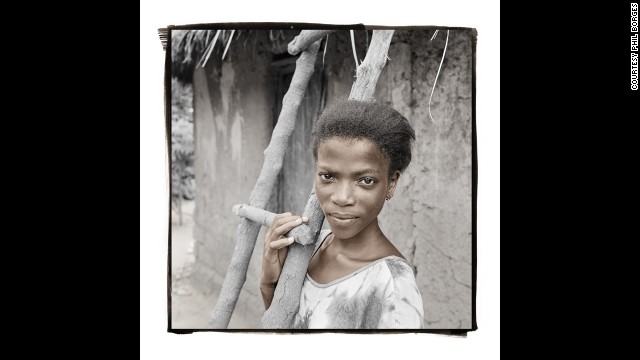 Akosiwa, 12 (Dogbo, Benin) When Akosiwa was 3, her father sold her to a distant cousin who promised to give her clothes and an education. Instead, she worked in servitude 12 hours a day and went to bed hungry every night. Eight years later, she returned to her family and enrolled in a program to educate girls who have been trafficked. She is the only 12-year-old in a classroom full of children half her age. "I love all my subjects," she said. "I get the highest marks in the class because I study the hardest."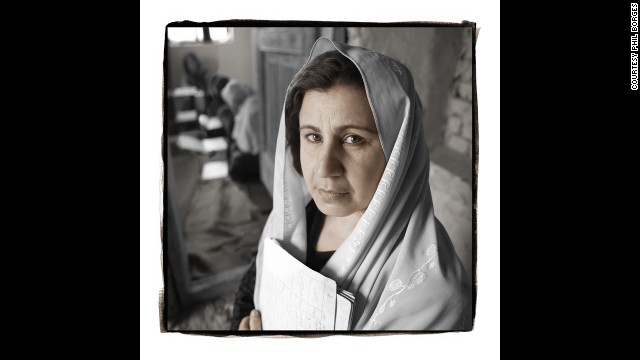 Fahima, 38 (Kabul, Afghanistan) Fahima, a teacher since 1985, was one of the thousands of professional women who lost their jobs when the Taliban came to power in Afghanistan. But in defiance of the Taliban and at great risk to herself, Fahima opened a clandestine school for young girls. At one point, 130 girls were coming to her home each week to study math, science and Pashto. Fahima was harassed by religious police and threatened with beatings and worse, but she operated her school until the Taliban's fall.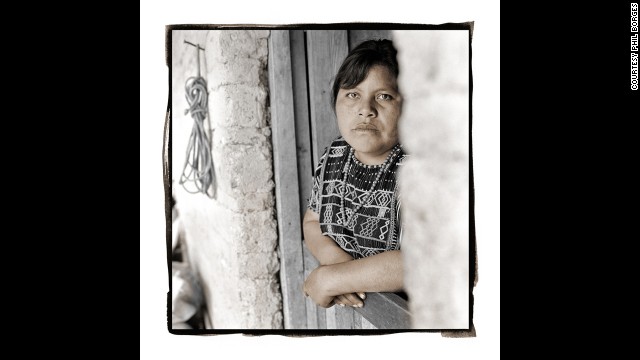 Rosa, 27 (Ixtahuacan, Guatemala) Rosa is an unlikely hero in her rural community. She sought justice after being raped by four men, despite the expectation there that women keep quiet about such attacks. Initially, she hesitated to take action because her attackers threatened to kill her if she exposed them. But with encouragement from her mother and an outreach worker, Rosa became one of the first women in her village to take her abusers to court. She won her case, and the men were sentenced to one month in prison and fined $1,300.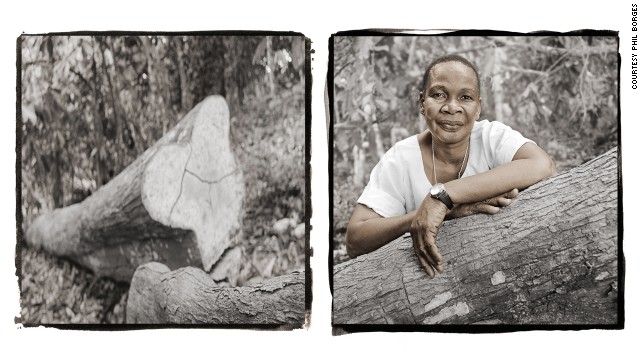 Nana Gyetuah, 56 (Dekoto Junction, Ghana) Nana Gyetuah, also known as Madame Koko, is the first female chief of her village. As chief, she has fought for the rights of the villagers whose cocoa trees were being destroyed by the timber industry. When loggers destroyed and refused to repair a bridge, she mobilized her fellow villagers to create a roadblock. Eventually, Madame Koko was able to successfully stop all logging in her territory. Her strength as chief makes her a strong role model for the young women in her village, Borges said.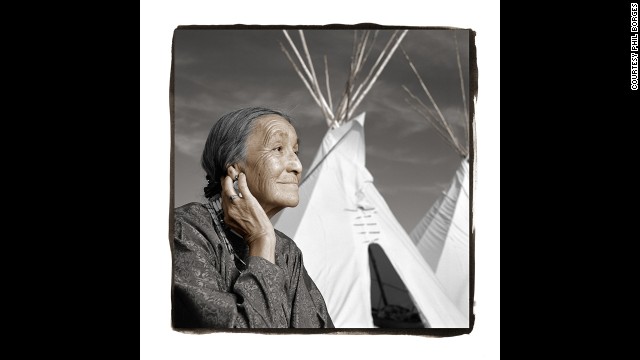 Lucille Windy-Boy, 71 (Rocky Boy, Montana) Lucille, a recent widow, is known across the reservation for the high-quality tepees she sews. Her husband was an important spiritual leader in the territory. When Borges met Lucille, she was surrounded by some of her 42 grandchildren and 32 great-grandchildren. They proudly told him that Lucille and her husband had started college five years ago and earned their bachelor's degrees together, inspiring all the young people in their community.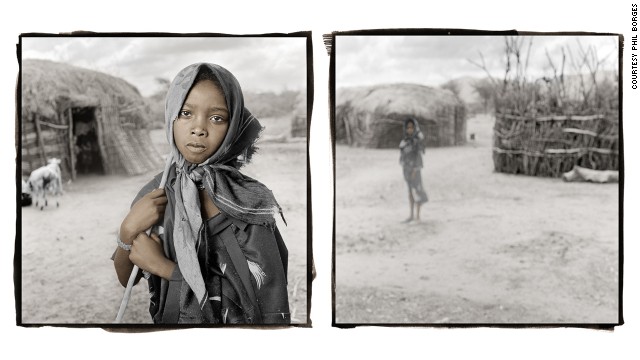 Dhaki, 11 (Yabelo, Ethiopia) Dhaki's family is part of the Boran tribe, raising cattle and camels in southern Ethiopia. Because of their nomadic lifestyle and heavy workload, Boran children seldom attend school. But recently, a school opened in Dhaki's territory with flexible hours to accommodate the Boran lifestyle. Five months ago, Dhaki became the first person in her family to attend school. It takes her more than an hour to walk there.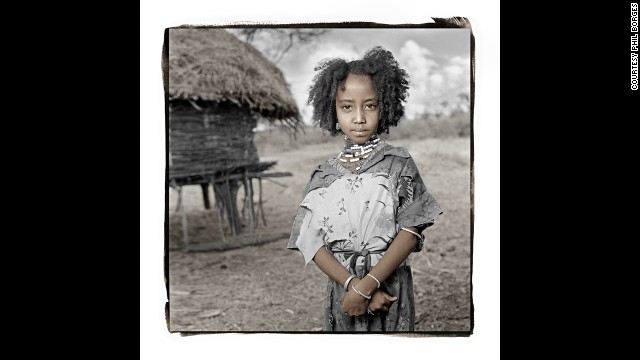 Rufo, 7 (Yabelo, Ethiopia) Rufo is also part of the Boran tribe, but she cannot attend the school that recently opened in her territory. Her mother could spare the labor of only one of her seven children, so she chose Rufo's sister Loco to get an education. Like most Boran girls, Rufo spends her days collecting water and firewood and helping her mother cook. Her labor plays a vital role in her family's survival.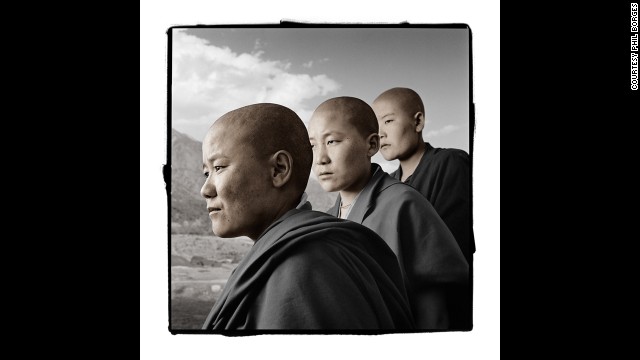 Kalsang, 25; Ngawang, 22; Dechen, 21 (Dolma Ling Nunnery, India) When photographed, these nuns had just arrived at Dolma Ling after fleeing Tibet. In 1992, they were arrested, beaten, shocked with electric cattle prods and imprisoned for placing posters that protested the Chinese occupation of Tibet, Borges said. Several times during their conversation, Dechen broke into tears and quietly excused herself before continuing her story.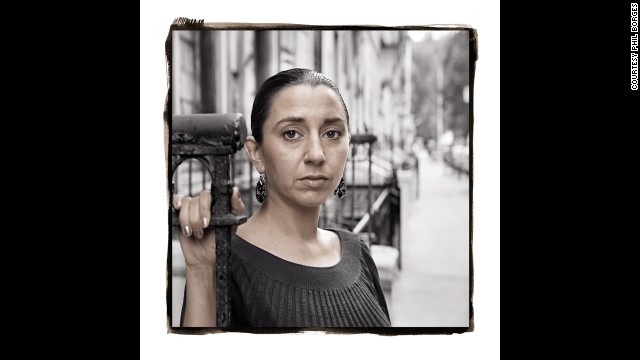 Rachel, 34 (New York) In order to escape an alcoholic family, Rachel dropped out of school at 13, Borges said. And like so many girls who end up on the streets, she was recruited into the sex industry. After a failed suicide attempt, she vowed to change her life and help empower young women in need. She returned to school, earned a master's degree and founded GEMS, an organization dedicated to ending the sexual exploitation of children.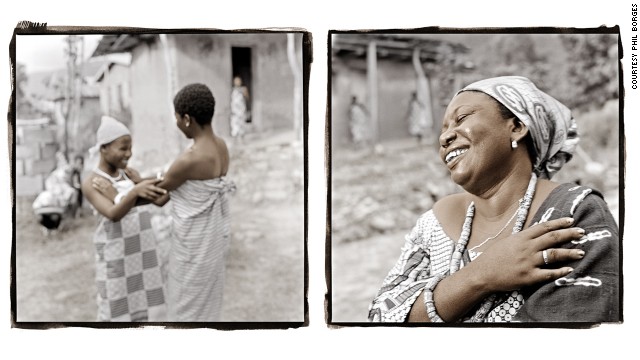 Teke Foliwa, 42 (Have, Ghana) Teke Foliwa was recently crowned "Queen Mother" of Have. Her first act was to form women's groups for microcredit, agriculture production and education reform. Initially, there was concern that she was gaining power too quickly. But the men became impressed with the progress being made by the women and asked for their own groups. "This has moved us forward toward becoming a true community," she said. "It's not just the men and the women but all of us moving forward together." See more from CNN's "Girl Rising" project
Photos: Women and girls who've changed their world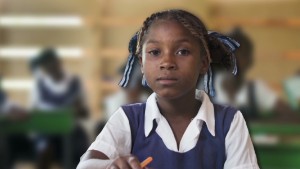 Rose Matrie dreams of a big school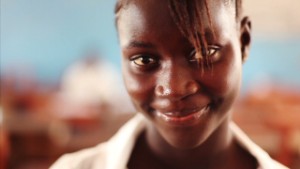 'Superstar of Sierra Leone'
Today, almost as many girls as boys attend primary and secondary school. In the majority of Arab countries where there's data, women outnumber men at university, and more women than men study science.
I see and I hear that determination to succeed every day in Jordan.
Recently, I visited a girls' school in the south of Jordan where 12-year-old Noor told me about her grandmother, a famous storyteller who narrated other people's stories. Noor was proud of her "teta," but she had her own dream.
"I want to be mayor," she said. "I want to build a library full of books; I want to build a park so that children can play safely."
Noor wanted to write her own story. I knew then that she, and girls like her, would write a new chapter for our region.
It won't be easy. We have a long way to go. Increases in girls' attendance at school and university are not yet reflected in politics, the job market or society's mindsets. And there are still 5 million girls out of primary and secondary school across the Arab world.
But as the political, social and economic plates shift and settle around our region, there's never been a better time for girls to rise up and share their talents with society. And, girls! Society has never needed you more.
We know that in every country around the world, healthy, educated girls can play a crucial role in stabilizing societies, resolving conflicts, bolstering democracies, strengthening economies and nurturing healthy and educated children.
But they can't do it alone.
Role models can inspire. Campaigns can motivate. But if we want all girls everywhere to rise up, then we must find them, befriend them and support them.
That means going outside our comfort zones. Maybe they're recovering from civil war in Sierra Leone, like Mariama — now educated and a popular radio DJ. Maybe they're trapped in servitude in Nepal, like Suma — now an activist working to free others. Maybe they're living in slums in India, like Ruksana — now strong and in school. (Find out more about their stories.)
And it means using our voices to speak up for those who cannot yet be heard. Lobbying for girl-friendly policies. Working with governments, non-governmental organizations, U.N. agencies and the private sector to create momentum for change.
Will it be easy? No.
Will it be as hard as studying in the dark or sleeping on a pavement? Enduring slavery or rebuilding a life after war? Going to school hungry and still achieving good grades? Certainly not.
And if we falter in our resolve, let's remember the strength and dignity of Wafa, Noor, Mariama, Suma, Ruksana and girls everywhere who, every day, fight for their right to education and opportunity.
If one girl with courage is a revolution, imagine what feats we can achieve together.
— Her Majesty Queen Rania Al Abdullah